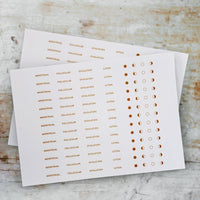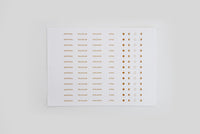 Add extra pizzazz to your Do Less Planner or add a cyclical planning element to another plan of your choice with these Cyclical Tracking Stickers! Each sticker sheet includes 13 cycles-worth of New Moon, Quarter Waxing Moon, Full Moon, and Quarter Waxing Moon stickers plus Menstrual, Follicular, Ovulation, and Luteal stickers.

Stick them to the days in your planner to remind you where your body is and where the cosmos are in their cycles so that you can go with, instead of against, the flow.

Each order comes with 2 sticker sheets. Each sticker sheet measures 7 x 5in and each sticker measures 0.75 x 0.25in.

**For International customers you may need to pay taxes, duties, or customs charges. We are not able to include those in the price. These planners are shipping from the United States.**